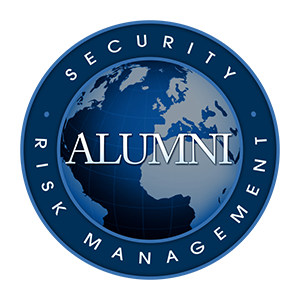 The SRM Alumni is a community of like-minded, enthusiastic professionals that are passionate about what they want to achieve in the security risk management industry.
Each member brings a unique perspective to the community; providing information, guidance, and support. Stay connected with the #srmctribe, attend one of our tri-annual events, take advantage of our special offers and promotions. Stay in the loop and be the first to know.
Eddie the Eagle, Olympian (Courthouse Hotel, London)
Toby Guttridge, Former SBS an author of 'Never will I Die' (Sbomb Bar, Poole)
Richard Browning, Gravity Industries (Bike Shed, London)
Nims Purja, 14 Peaks on Netflix (Courthouse, London)
Lord Paddy Ashdown, Diplomat (HMS Belfast)
Ranulph Fiennes, World Greatest Living Explorer (Imperial War Museum)
Andy Merry, Beefeater (Tower of London)
Ash Bhardwaj, The Times Travel Journalist (Jewel Bar London)
Brian Lord MBE, Operations Director GCHQ (Royal United Services Institute, RUSI)
The Magic Marine & Escapologist Jonathan Goodwin (Chelsea Football Club)
Mickey Yule, Paralympian (Courthouse Hotel)
Lee Frank Spencer, World Record Holder Atlantic Row (Courthouse Hotel London)
General Sir Richard Sherriff, Author War with Russia (Century Club London)
Brian Wood MC, Military Author (Frontline Club, London)
Emile

Ghessen

, Filmmaker (London Transport Museum)
Tim Marshall, Best-selling author 'Prisoners of Geography' (HR4K)
Chris Terrill, TV Adventurer and Filmmaker (London Edition Bar)
Major Scotty Mills, England Men and Women Football Performance (Cabinet Office, York)
Ed Husain, Author of House of Islam (Emergency Planning College, York)
As we are a non-profit organisation, all proceeds from our kind and supportive sponsors are invested back into events. Without sponsorship we would not be able to host Alumni networking evenings. Sponsorship does not always have to be financial, it may well be in the form of providing a location or a guest speaker.
​There are many reasons why you may wish to sponsor a SRM Alumni event:
1. Put Your Business in the Spotlight
Having a presence at one of our networking events positions you and your business as an authority in the security and risk management industry. You gain respect and credibility by standing out from the pack of attendees and prominently displaying your products and marketing materials. Instead of just attending an event and looking for people to share your business card with, sponsorship brings attendees who are eager to find out about your business directly to you.
2. Get in front of your Target Market
The event organisers of your event are spending time marketing the event to your target audience, bringing these attendees into the room. Your job is to come prepared to take full advantage of this opportunity by making sure to create eye catching, professional signs, marketing materials or even product displays that draw attendees to you and your business.
3. Lead Generation and New Contacts
The first step to making sure you get a positive ROI from sponsoring an event is acquiring data from potential leads. Our events team will help you on the right path by creating as many opportunities and introductions as possible for you to engage and scan high-quality leads in a relaxed but very professional environment with potential clients and customers.
4. Get Your Brand Noticed
Being featured on event invites and handouts, on the Alumni website with your logo and having banners and marketing stands in the room are all great ways to leverage your sponsorship and get brand recognition.
5. New Clients, New Customers, New Business
Not only are the attendees of the event potential new clients and customers, so are your fellow sponsors and organisers too. You can form new business partnerships at events, meet like-minded business professionals in complimentary businesses with which you share the same target market but are not in competition.
6. Give attendees a "taste" of your business
Speaking at event is a great way to capture attention from attendees. Be creative and think of out-of-the-box ways to stand out. By sharing a sample or trial offer of your product, you engage attendees and increase your chances of turning them into new customers.
7. Market Your Business Inexpensively
We all know how much advertising your business can cost. It can run into thousands of pounds or more to place an ad in a well-known national publication for only one time! Spending that same amount or much less as a sponsor of an event is a much wiser investment that will bring a greater return on investment. Remember, you will be in the same room with hundreds of attendees who are your target market. By leveraging the event to your advantage, there will be no limit on your potential ROI.
To sponsor an event or for further details on prices please contact the SRM Alumni team by utilising the contact form or emailing info@srmalumni.org. Please remember we only aim to cover the event running costs and provide value to our sponsors and members.
Join the SRM alumni community's mailing list and never miss out on important updates, event invitations, and networking opportunities. Stay connected with fellow alumni and continue to make a difference in the lives of those who share your SRM journey!
Contact us today to get more info on the SRM Alumni